Julie Peck, Feldenkrais Trainerin, Perth, Australien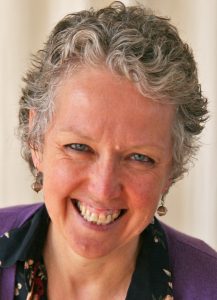 Julie Peck aus Perth (Australien) hat einen beruflichen Hintergrund als Pysiotherapeutin und wurde 1990 Feldenkrais Practitioner (FPTP Sydney 1). Im Jahr 2003 wurde sie Australiens erste Feldenkais® Trainerin. Sie arbeitet in ihrer eigenen Praxis in Perth.
Die Arbeit in ihrer lebendigen Praxis, sowie in zahlreichen Feldenkrais® Ausbildungen und Advanced Trainings weltweit ist für sie die wichtigste Quelle für ihren Lernprozess und den Erfahrungsaustausch mit Kollegen, Klienten und Schülern. Ihr Engagement hat zum Ziel, mit Freude an der Sache das Verständnis der Feldenkrais® Methode und deren Umsetzung in der Praxis zu fördern.

*************************************************

Julie graduated from the Sydney 1 Feldenkrais training in 1990, became an accredited Feldenkrais trainer in 2003, and also has a background in physiotherapy.
Julie finds her private practice – where she works with a wide range of clients, teaching – in numerous trainings and advanced trainings, and sharing learning experiences with colleagues, clients and students are the main source of her continual learning.
She has found her journey in the Feldenkrais Method over the last 25 years has enhanced and refined her abilities in innumerable ways, particularly in stimulating her ability to direct her own discoveries and learning, and to share this with others.